Does your field workers have different starting addresses? Your field workers are regular? Do you want to assign your field workers to work areas? To set up the sectorisation of the territory, just complete the steps below:
Note
: In order to access the 'Sectorisation' tab, you must activate the option beforehand from the general settings. To learn more, read
this article
.
Add a new sector plan
Go to the 'Settings' module.
Click on the tab 'Sectorization'.
Click on the button 'Add'.

Determine the name and the application days of the sector plan.
Click on the button 'Save'.
Note: The days of application must be different when you add several sector plans. It is not possible to create multiple sector plans with the same application day. For example, if you have the 'Sector Plan A' with an application day of 'Monday', you cannot create the 'Sector Plan B' with also an application day 'Monday'.
Manage the sectors of the sector plan
Draw a new sector
From the table of sector plans, click on '…' and 'Sectorize'.
Click on the button 'Draw new sector' to add a work sector.
Click on the icon located at the top left of the map to start drawing this sector.
After having drawn the area, click on the 'Save drawn sector'.
Define the name of the drawn area.
Click on the button 'Save'.
Assign field workers to sectors
Click on the drawn sector to open the panel on the right of the screen.
Click on the button 'Add'.
Select the field worker in the drop-down list.
Click on the button 'Save'.
Note:The same field worker can be assigned to one and only one sector. For example, agent 1 cannot be assigned to 'Sector A' as well as to 'Sector B'.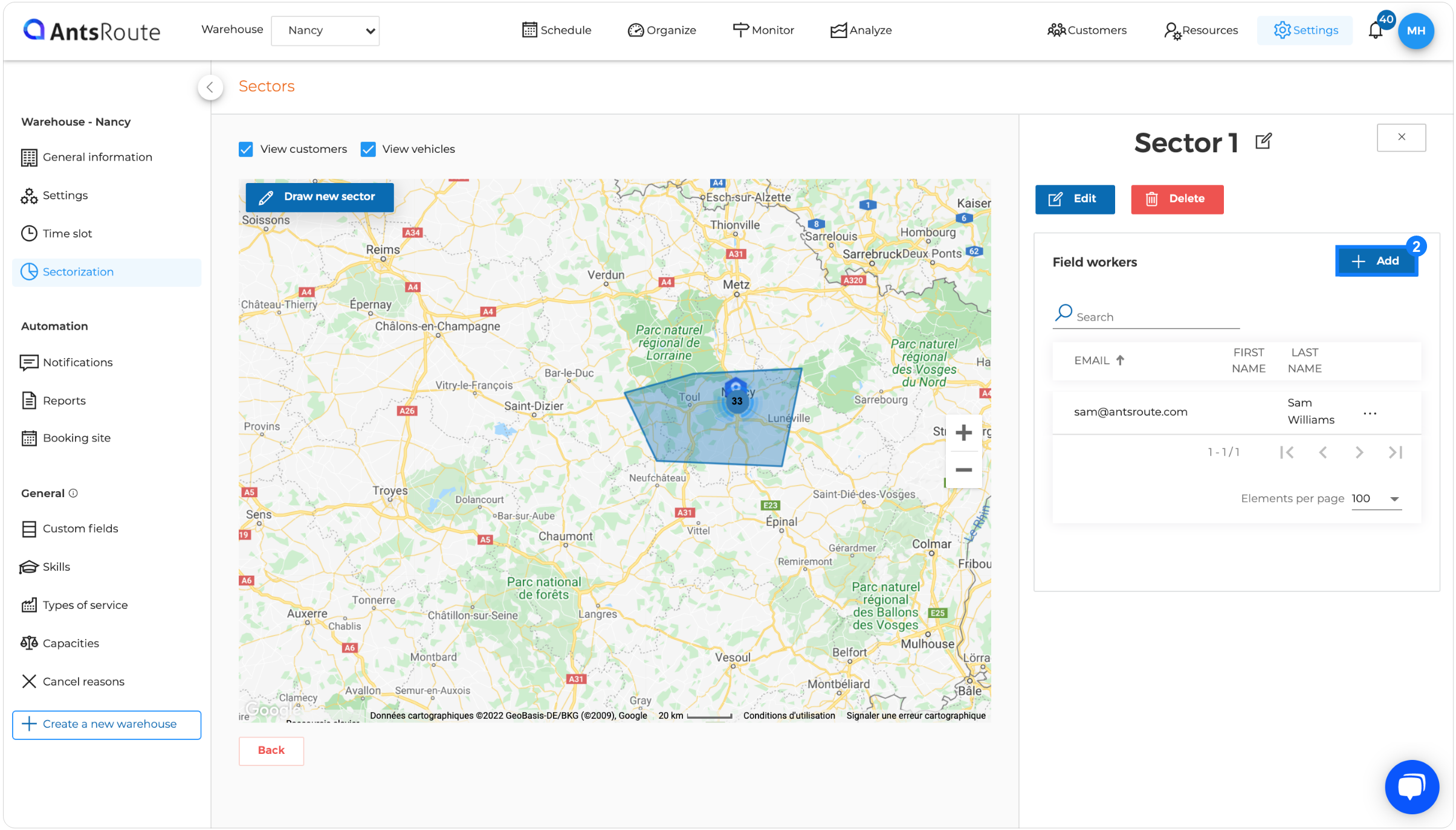 Note : The sectorisation of the territory must be carried out according to your history of field service routes. Indeed, sectoring the territory sometimes requires the use of several field workers to complete field service operations that would have required only one field worker without sectorisation.